World Stroke Day 2022 – 'Pass FAST on' campaign launch
World Stroke Day 2022 – 'Pass FAST on' campaign launch
This World Stroke Day we are launching our 'Pass FAST on' campaign. The FAST (Face Arms Speech Time to call 999) test helps you to recognise the most common signs of a stroke. It reminds you what to do when stroke strikes.
This year's World Stroke Day (Saturday 29th October) coincides with the 13th anniversary of Public Health England's (PHE) Act FAST campaign launch. To mark this moment of the campaign becoming a teenager we carried out a UK-wide survey of 1,000 teenagers (aged 13-19) and their parents. 1
The survey revealed that awareness of stroke and the FAST test is low amongst teenagers and their parents. Over half (54%) of UK teenagers unaware of the FAST acronym.
According to the survey, 53% of teenagers know a stroke survivor. But over one in three (40%) don't know calling 999 is the first thing you should do if someone is having a stroke. Furthermore, parents of those surveyed also showed low awareness. Just under half (47%) unaware of the stroke awareness acronym.
This means that millions of people across the UK may not be equipped with vital life-saving knowledge of how to spot a stroke. Or that calling 999 immediately is critical.
Therefore, this World Stroke Day we are urging you to 'Pass FAST on'. Knowing and sharing the FAST test is the biggest and most important thing you can do to save lives and prevent disability from stroke. So please support our campaign and share the FAST message with everyone you know.
How can I help to 'Pass FAST on'?
It's really easy for you to support our campaign and only takes a few minutes of your time.
Juliet Bouverie OBE, Chief Executive of the Stroke Association, said:
"Stroke strikes every five minutes in the UK, killing tens of thousands of people and leaving thousands of stroke survivors with complex and severe disability.

The first thing every one of us can do this World Stroke Day, young and old alike, is to make sure you and your loved ones all know the FAST test. It's easy to remember the most common signs of stroke: changes to the face (F), arms (A) and speech (S) - then it's (T) – time to call 999. Treating mini strokes with the same urgency as strokes is also vital. If you spot any of these signs, even for a short time, it's important you take action. So 'Pass FAST on' today.

Juliet Bouverie OBE, Chief Executive of the Stroke Association
On Social Media:
An easy way to Pass Fast On is via your own social media channels. Encourage people to know the FAST test, and to #PassFASTon by tagging them in your own post.
You can download the toolkit here.  
You can also help by sharing our social media posts on World Stroke Day. Look out for a brand new film on World Stroke Day where we find out if teenagers know how to Act FAST.
Facebook, Twitter, LinkedIn and Instagram.
What is the Act FAST public health campaign?
The Stroke Association's pioneering research laid the foundations for the launch of the Act FAST campaign in 2009.2 Run regularly since then, it is one of the most successful public health awareness campaigns. It has saved thousands of lives and prevented disability from stroke.3-5
The Stroke Association's World Stroke Day Survey
The charity's UK wide survey also revealed low awareness of stroke and a lack of knowledge around how stroke can be prevented:
Two in five teenagers (40%) don't know a stroke is a blood clot/bleed on the brain whilst a third of parents (33%) were unable to correctly define what a stroke is. 
Around one in five teenagers and parents think a stroke is a heart condition and that chest pain is a common sign of stroke. This isn't the case as a stroke happens in the brain. 

 
Common signs of stroke are not known:
A quarter (25%) of teens could not identify any of the three most common signs of stroke and around one in five (22%) parents failed to recall any either
57% of teenagers and 62% of parents recognise that facial drooping is a common symptom of stroke. But not being able to raise your arms properly (44% and 50%) and struggling to speak (43% and 48%) were not common knowledge
More than half (59%) of teenagers don't know that high blood pressure is the main cause of a stroke.
Around a fifth (22%) of teenagers don't think or don't know changing your lifestyle can lower your risk of a stroke. That's despite nine in ten strokes being preventable. 5
Juliet Bouverie OBE, Chief Executive of the Stroke Association adds:
"We've seen impressive results from previous Act FAST campaigns. These survey statistics show just how important it is that we continue to raise awareness of the symptoms of stroke, particularly amongst a younger audience – when so many know a stroke survivor, it's worrying that so few know the signs or what to do if stroke strikes. So please 'Pass FAST on' today."

Juliet Bouverie OBE, Chief Executive of the Stroke Association
The FAST test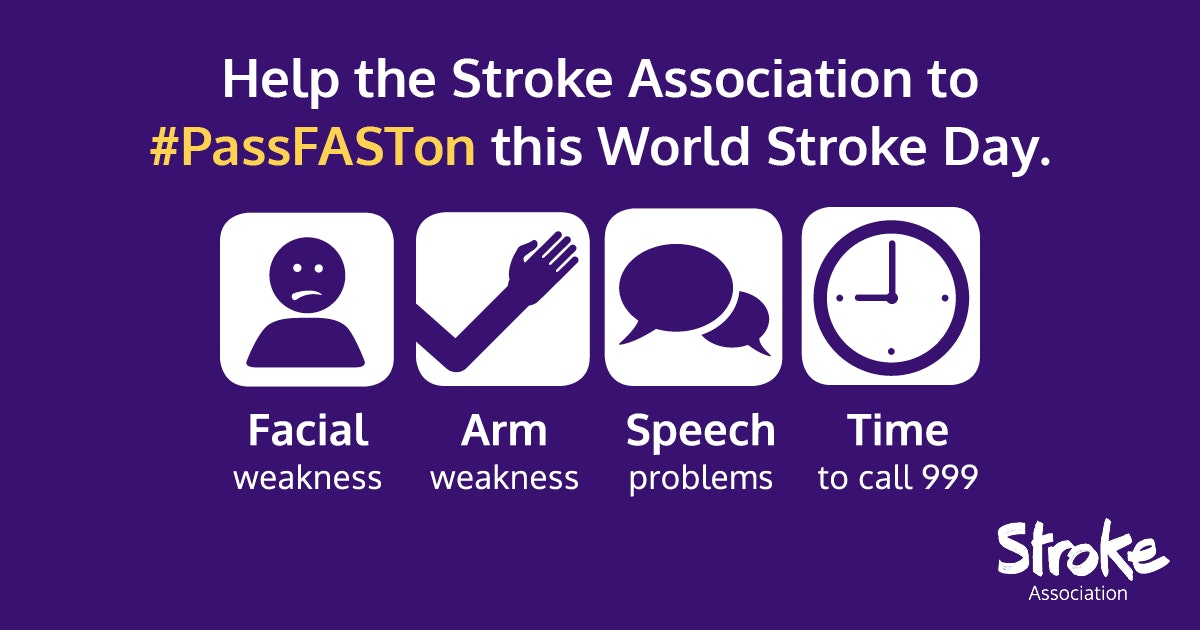 Use the FAST test to identify the signs of stroke*:
Face – has their face fallen on one side? Can they smile?
Arms – can they raise both their arms and keep them there?
Speech – is their speech slurred?
Time – time to call 999 if you spot any of these signs
* The signs of a TIA (mini stroke) and how to respond, are the same as a stroke
The FAST test helps to spot the three most common symptoms of stroke. But there are other signs that you should always take seriously.
These include:
Sudden weakness or numbness on one side of the body, including legs, hands or feet.
Difficulty finding words or speaking in clear sentences.
Sudden blurred vision or loss of sight in one or both eyes.
Sudden memory loss or confusion, and dizziness or a sudden fall.
A sudden, severe headache
References